Hope Assistance Local Tradies Breakfast
Chamber Breakfast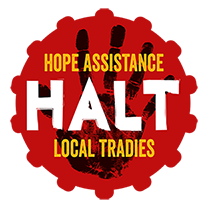 Date: Wednesday 09 May 2018
Time: 7am
Venue: Dubbo RSL
Sponsor: EzyQuip
Price: Chamber Members: $0 , Non-Member: $15
RSVP: 7-May-2018
Details
---
Come along and show your support for local tradies

What HALT offers community

HALT is expanding across Metropolitan, Regional and Rural Victoria and other states across Australia.

Suicide rates are at an alarming level and there needs to be new and innovative initiatives encouraged and supported.

HALT works predominately within the tradie community but has also worked with the farming, business and sporting community to open conversations around mental health and suicide prevention.

HALT uses openness, honesty and the power of lived experience in conjunction with partnering with local and national support services to talk with community organisations and members and offer training.

HALT is community based and believes a 'whole of community' response is needed to begin reducing the rates of suicide and mental illness and works with established community leaders to help facilitate this.

HALT is innovative in its approach, going into communities and working with them in any environment and at any time of the day or night.

Come along and hear Jeremy Forbes, Co-Founder of HALT, talk about the initiative.