Orana @ Work Employer Summit
Orana @ Work Employer Summit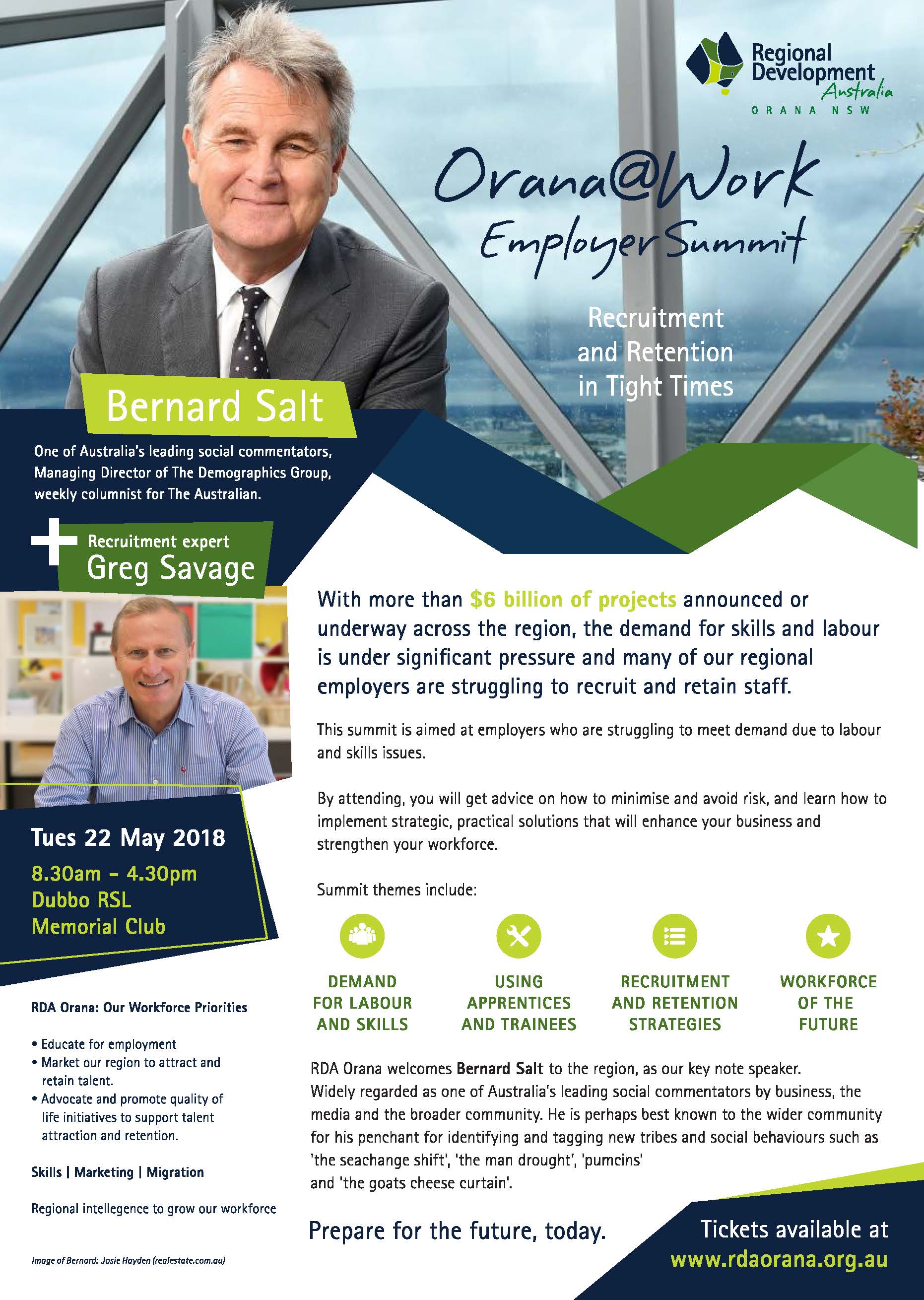 Date: Tuesday 22 May 2018
Time: 8.30am - 4.30pm
Venue: Dubbo RSL Memorial Club
Sponsor: RDA Orana
Guest Speaker: Bernard Salt

Details
---
One of Australia's leading demographers and social commentators will join the nation's most influential recruitment expert at a forum in Dubbo next month aimed at supporting the region's employers and building their skills in attracting and retaining staff.
Bernard Salt of The Demographics Group will be keynote speaker at the Orana @ Work Employer Summit hosted by Regional Development Australia (RDA) Orana at the Dubbo RSL Club on Tuesday 22 May.
He will be joined by Greg Savage of The Savage Table, who, in 2015, was voted the nation's most influential person in the Australian recruitment industry in the past 60 years and named The Most Influential Business Voice on Twitter in Australia in 2016.
RDA Orana Executive Officer Megan Dixon said the forum was aimed at supporting the many employers across the region who were struggling to recruit and retain staff.
A 2017 survey of 180 businesses and organisations undertaken by RDA Orana across the region found that the demand for labour is high and that many businesses are reverting to word-of-mouth recruitment strategies to save time and avoid the disappointment of unsuccessful advertising.
Tickets to the forum start at $110 per person and can be booked online at
https://rdaorana.worldsecuresystems.com/orana-work-employer-summit