Salute to Dubbo Business
Salute to Dubbo Business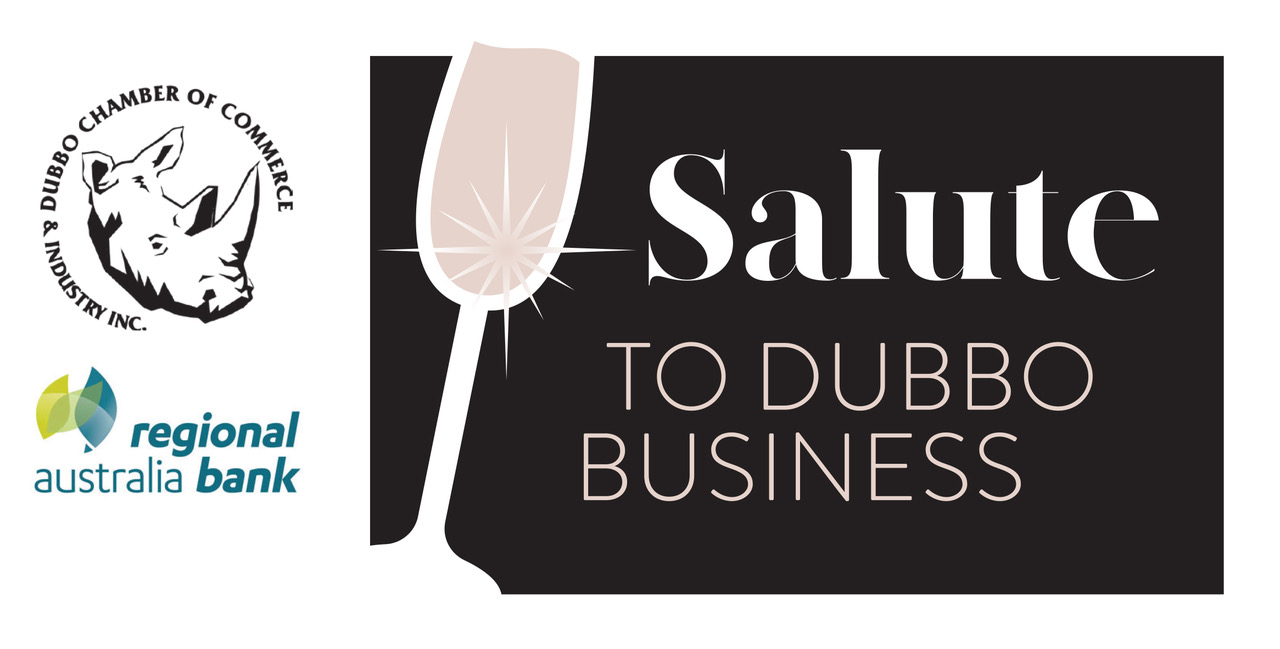 Date: Thursday 12 November 2020
Time: 6pm Arrival, 7pm Start
Venue: Taronga Western Plains Zoo, The Waterhole Café
Sponsor: Regional Australia Bank
Price: Chamber Members: $100, Non-Member: $110

Details
---
Join the Dubbo Chamber of Commerce and Regional Australia Bank for our Salute to Dubbo Business Cocktail Event.
Friday 13th November 2020, 6pm
Taronga Western Plains Zoo - The Waterhole Café
Cocktail Attire
Canapes and Drinks Package included.
Tickets for SALE Monday 19th October 2020
https://www.123tix.com.au/events/12488/salute-to-dubbo-business-awards

Congratulations to all our Finalists!
WINNERS to be announced at this event.
Dubbo's Favourite Hospitality Business (Thank you to WIN Network)
Cakes by Amy Rutherford
Dubbo Rhino Lodge
Food at Yours
Short Street Store
Wongarbon Ploughman's Tavern
---
Dubbo's Favourite Tradie (Thank you to The Mailbox Shopper)
Brendan Powyer - Peter Parkes Design & Construction
Casey Rutherford - CJ Rutherford Roofing
Gordon McDermaid - Gordon McDermaid Carpentry
Ian "Gratto" Gratton - GPS Plumbing
Ryan Shields - Wheel-Conn Crete
---
Service with a Smile (Thank you to The Daily Liberal)
Bevan CharltonWhite – My Foot Dr
Bev Onley – Daily Scoop at Majo's
Jack Browne – Macquarie Geotech
Kaail Bohm – Delroy Terry White Chemart Pharmacy
Tayla Hallinan – Short Street Store
---
Dubbo's Most Popular Business (Thank you to 2DU & ZooFM)
Carlton House Childcare Centre
Daily Scoop at Majo's
Millennial Brow Co
Orana Threadz & Beauty
Urban Edge Dance Studio
---
Business Who Met the Challenges of 2020 with Diversification & Innovation
Small Business
axxis
Ruby Maine
SJ Shooter Real Estate
Large Business
Fitness Focus Dubbo
Orana Mall Pharmacy
Summit Cranes
*Covid Safe Restrictions apply in line with Government regulations as at 14/10/2020
Taronga Western Plains Zoo is a Covid Safe Venue.
You must remain seated at your table for the duration of the night.