Hell Yes! Financial Advice Pty Ltd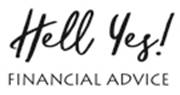 Contact Name:
Vicki O'Connor
Phone:
02 6800 2780
Fax:
02 5818 5114
Business Address:
Suite 2A, 113 Darling Street , DUBBO, NSW, AU, 2830
Postal Address
PO Box 624
DUBBO NSW 2830
Web Address:
https://www.hell-yes-finance.com/
Industry/Services:
Financial Services
Company Description:
We are a locally run financial advisory firm. At Hell Yes! we have over 30 years of experience creating holistic strategies to help your family achieve their financial goals and dreams. We are asset agnostic, looking to assist the client to invest in the most appropriate asset that will deliver their desired outcomes. We offer advice with your best interests as the primary focus. We strive to achieve your goals and aspirations, not just "below the line" investments including the need for structuring, intergenerational solutions and philanthropic aspirations. Give us a call today on (02) 6800 2780 to discuss how we can help you.