Dubbo Chamber of Commerce
Free Chamber Event in November - Book Now
The Dubbo Chamber of Commerce and Industry in partnership with Dubbo City Toyota is proud to present guest speaker Chris Helder at our Business of Influence Breakfast Seminar. As a member, this event is FREE of charge to attend for yourself and up to three of your staff.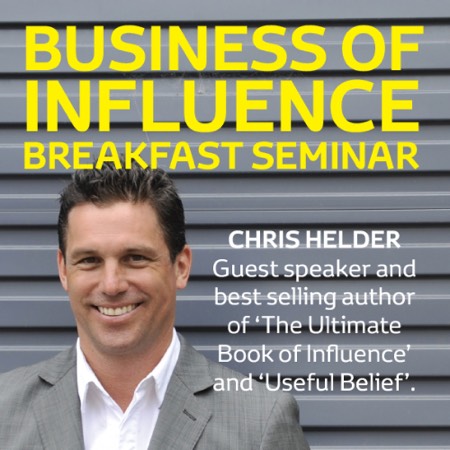 Chris Helder is a certified practitioner of Neuro-Linguistic Programming specialising in advanced communication and behavioural modelling. Chris is one of today's highest booked speakers and he presents his high-impact presentations to some of the biggest names in business throughout Australia, the Asia-Pacific region, the US and Europe. His books 'The Ultimate Book of Influence' and 'Useful Belief' are best sellers.


Chris specialises in sales, communication and leadership, drawing from many fields of research for his presentations. Before you can truly influence people, you need to learn how to communicate effectively. Chris teaches you how to choose the right kind of communication techniques for any situation, so when you speak, you know people are listening!
To find out more, visit Chris Helder's website.
Where: Dubbo RSL Theatrette
When: 16th November 2016
Time: 7am for breakfast, 7:15 start.
RSVP: By 5pm, 14th November 2016.
Don't forget - this event is FREE for members and up to three of their staff! Bring your team!
If you are looking for a fresh and modern approach to motivation and getting results then this is a morning not to be missed.
Watch Chris's video below for more information.