Dubbo Chamber of Commerce
Welcome to your Dubbo Chamber Newsletter
This Friday (31st) is the final day you can enter the 2015 Rhino Awards or nominate someone for a People's Choice Award. If you're having problems logging on to the Awards Entry page, please contact Toni or Kathryn. Details below.
Next weeks ASX200 Chamber Breakfast is with Qube Managing Director, Maurice James on August 5 at the Dubbo RSL 178 Restaurant. Dubbo based Big Blue Digital will also be presenting about their rebranding from Bosweb Systems.
Your Dubbo 2015 launches on August 5. This has been a very successful program the last couple of years and I would encourage you to come to the launch and consider being part of it this year.
Have you or your business changed your contact information recently? Check our Members Directory to make sure your info is up to date. Contact Toni Beatty with any changes.
Support Local Businesses & Services - Buy Local in Dubbo
---
Orana Mutual 2015 Rhino Awards: Entries Close July 31
This week is the last week to enter the Orana Mutual 2015 Rhino Awards or nominate someone or a business for the Peoples Choice Awards.
All of the details - including our Info Pack and a great video from last years NSW BC Business Award Judges on what they look for in an entry - are all available on our Rhino Awards Entry Process page.
If you are having problems logging into the online entry portal, please contact Toni Beatty or Kathryn Taylor ASAP.
---
Chamber Breakfast: August 5 - Qube Managing Director - Maurice James

Dubbo Chamber 2015 ASX200 CEO Talk Series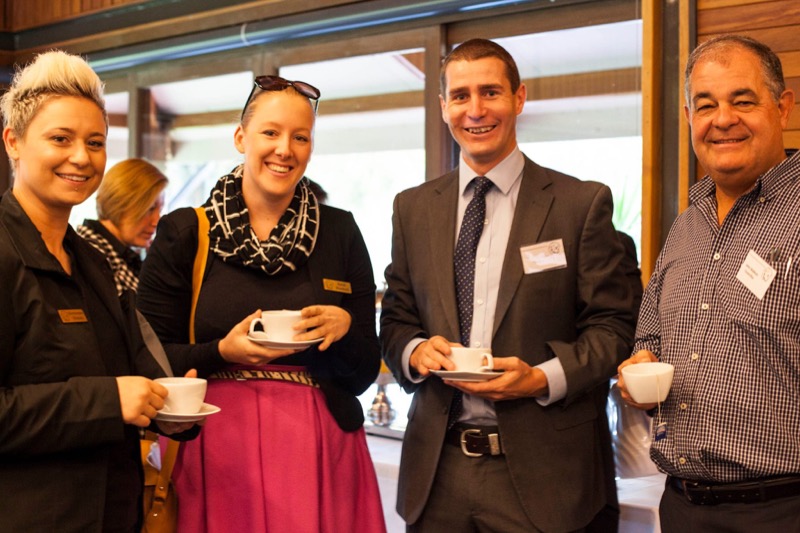 Presentations from an outstanding collection of CEO's from some of Australia's leading companies over a networking breakfast.
Qube is Australia's largest integrated provider of import and export logistics services with national operations that provide a broad range of services.
Since listing in 2007, Qube has undergone significant growth and joined the ASX S&P 200 index in September 2011.
The Ports & Bulk division has diversified operations from Port Hedland in the west, where we stockpile and load iron ore for export markets, through to Port Kembla in the east where we handle motor vehicles, heavy machinery and project cargoes.
The Logistics division has strategically located facilities in all capital city ports and provides road and rail container transport, customs and quarantine services, container parks, intermodal terminals, warehousing and international freight forwarding.
Maurice James is a former Executive Director and Head of Ports Group at Patrick Corporation.

Book Now: Dubbo Chamber Events
Dubbo Chamber would like to thank Taronga Western Plains Zoo and Dubbo City Council for their assistance with the 2015 CEO Talk Series.
---
Your Dubbo Business Launch - August 5
Find out why you should be talking about Your Dubbo and what the 2015 program has to offer including;
Business development workshops, focused on building your business, your team and your client base
Expert guest speakers.
Panels of local service providers.
Extensive customer feedback reports based on primary research.
Three business development grants available worth a combined $30,000 in cash and $9,000 in business development resources.
Customer incentive of $5000 consumer prize for purchasing products or services in participating businesses.
Hear from business participants from Your Dubbo 2014. Find out how some of the winners used their grants and the benefits that other participating businesses see the program.
Catch up with other business people, who are passionate about growing their own organisations, fostering their staff and developing Dubbo as a great place to do business.
5:50pm, Wednesday 5th Augutst. Milestone Hotel. Food and drinks provided.
RSVP Amy McAneney by 5pm, Monday August 3.
---
Vale Joe Snare
Farewell Mr Snare
Members of the Chamber were deeply saddened to hear of the loss of Mr Joe Snare on Sunday, 26 July 2015.
Joe, was the inaugural winner of the Jean Emile Serisier Award, an award that recognises the contribution on local business people to the community of Dubbo. Best known in the business community for Snares Newsagency, Joe also was a passionate supporter of the development Dubbo and in his retirement years remained deeply involved in the community, volunteering throughout the town.
Joe epitomised what local business is all about: providing a service that customers want, being connected to the community that he lived in and providing tremendous customer service. His legacy lives on through his children and theirs; and the role modelling that he provided to many of us.
Dubbo PhotoNews featured Joe and his family back in 2013. We're glad Joe got to enjoy his cake and pink champagne.
Our thoughts are with his family, as they mourn his loss.
Dubbo Chamber of Commerce and Industry
2015 Board & Executive
---
Recent New Chamber Members 2015
Some more new members that have joined the Chamber recently.
Ultimate Digital
DESS Point of Sale Solutions
Fitness Focus
Marathon Health
Your Mobile Bookkeeping
Dubbo Health Food
Skin Deep
Wright Way Building & Construction
AOM - Australian Organic Meats
Robinson Sewell Partners
Pivot Stove & Heating
Cleanaway - Transpacific Industries Group
Veldt Restaurant
Welcome to them all - please support your fellow members and local Dubbo businesses.
---
Short Notes:
smile - it's christmas
Plans for this year's smile. it's Christmas campaign have begun. Once again, Dubbo City Council will be creating stickers to help businesses decorate their windows - be sure to keep your windows free for stickers produced by local businesses.
Please contact Council's City Promotions and Events Co-ordinator, Aimee Croxon on 6801 4000 if you would like to express and interest in being involved.
---
Members Events & Promotions
---
Bosweb Systems rebrands as Big Blue Digital.
Founder, Brendon O'Sullivan says Big Blue Digital is a digital services agency, specialising in digital marketing and online business solutions: "It better represents what we are today and where we're going tomorrow. We partner with our clients to develop and service their unique online marketing, digital services, apps and latest technology needs.
Big Blue Digital invokes thoughts of big, unlimited scope – for our clients and for our business; linking to the creative possibilities, the modern digital services economy and our desire to empower our customers to thrive in the digital space by partnering with us. It will carry with it a unique and recognisable logo, which is modern, sophisticated and attention grabbing."
Over the coming weeks, Big Blue Digital will be refurbishing their premises ahead of their launch event in August to introduce their new identity.
For more information, please contact Brendon O'Sullivan, CEO & Founder of Big Blue Digital.
---
Barnson Dubbo - Engineers for all projects.
Barnson is a multi-disciplinary design firm offering a wide range of consultancy services. Our Town Planning and Building Design sectors work closely together to deliver commercial, residential and industrial projects. Barnson Town Planners are skilled in preparing and submitting applications on behalf of clients to obtain development or subdivision approval from Council. Barnson's award winning Building Designers provide the first step to accomplishing your dream home or new business premises and also specialise in interior design.
Barnson offers a free initial consultation to discuss all of your project needs. Please contact Chanel on 1300 BARNSON to make an appointment.
---
NSW Business Chamber
All Dubbo Chamber of Commerce members get affiliate membership with NSW BC at no extra cost.
Upcoming NSW BC Webinars
| Date | Webinar |
| --- | --- |
| July.28 | Business Diagnostic- Are you getting the most out of what you put in? |
| July.29 | Helping SMEs access finance for export |
| Aug.5 | Consumer Law changes |
| Aug.13 | Motivating and retaining a generationally diverse workforce |
| Aug.18 | Country-of-origin branding: Get the Australian Advantage |
| Aug.25 | Should Innovation be nurtured in SMEs? Should it be restricted to geographical boundaries? |
| Aug.27 | The purpose motive – engaging GenY through making a difference |
| NSWBC | More info & registration |
---
Dubbo Chamber Business Event Calendar - Save The Dates
| Date | Dubbo Event |
| --- | --- |
| July.25 | Dubbo Community Leaders Breakfast |
| July.31 | Rhino Entries Close |
| Aug.1 | Rhino Judging Starts |
| Aug.5 | Chamber CEO Breakfast - Qube MD, Maurice James |
| Aug.5 | Your Dubbo 2015 Launch |
| Aug.30 | Rhino Judging Finishes |
| Sept.23 | Rhino Sponsors & Finalists Night |
| Oct.23 | Rhino Awards Gala Night |
| Oct.24 | DREAM Festival Oct 16–24 |
*More info on the Dubbo Chamber Business Events Calendar
Got something to promote to Dubbo Chamber Members?
All Dubbo Chamber members can have up to three free mentions in our Newsletter during the year.
The Dubbo Chamber Newsletter has a subscription base of 600+ and growing.
Please provide the written copy, 75–100 words max. Plus relevant details such as Date, Time, Pricing, URL etc. Please don't send in a graphic that we need to spend time typing out. We can link to your website, Facebook event page etc, so we don't need every single detail for the newsletter.
Please allow a minimum of 21 days for events, promotions etc.
---
Join the Dubbo Chamber of Commerce & Industry Inc.
Have you renewed your Dubbo Chamber Membership for 2015 - or still thinking about joining?
Contact our members services officer, Toni Beatty, to discuss joining the Dubbo Chamber.
---
#DubboChamber
The Dubbo Chamber of Commerce and Industry Newsletter is published twice a month, around the 2nd and 4th Wednesday.
Follow the Dubbo Chamber Facebook Page and Twitter Feed for the latest news about the Chamber and business in Dubbo.
Michael Quinn - DCoC Website & Newsletter Editor
2015/15 July 28. hug your family
---
Copyright Dubbo Chamber of Commerce & Industry Inc.
Feel free to share this information, but please credit DCoC and link to our website.