Dubbo Chamber of Commerce
Welcome to your Dubbo Chamber Newsletter
Voting is now open for the People's Choice Awards for the Orana Mutual 2015 Rhino Awards.
Vote Now for your favourite Dubbo Business, Employee, Tradie, and Hospitality business.
Congratulations to everyone that has entered the Rhino Awards for this year. At last count on Friday night we had around 70 businesses and over 230 entries! Well done Dubbo business! The big job for judges starts this week.
Jen Mullen, General Manager of White Ribbon, is the guest speaker at our Women In Business lunch next week on August 19. The lunch is open to everyone - men and women. More details below.
Last Thursday several members of the Dubbo Chamber Board travelled to Orange for a mini conference hosted by NSW Business Chamber. We met with representatives from many other local Chambers including Lithgow, Canowindra, Orange, Broken Hill, Cowra and more. I think we all learnt a lot from each other and came away with lots of new ideas and things to work on. Thanks to Vicki, Samantha, Ellie, Duncan, Kate, and Penny for hosting us at the beautiful Hotel Canobolas. Wasn't even that cold, really.
Have you or your business changed your contact information recently? Check our Members Directory to make sure your info is up to date. Contact Toni Beatty with any changes.
Support Local Businesses & Services - Buy Local in Dubbo
---
Women In Business Lunch: August 19 - Jen Mullen - White Ribbon
Women In Business Lunch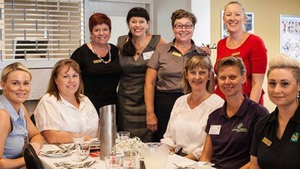 White Ribbon is Australia's only national, male led Campaign to end men's violence against women.
Vision
All women live in safety free from all forms of men's violence.
Mission
Making women's safety a man's issue too.
The campaign works through primary prevention initiatives involving awareness raising and education, and programs with youth, schools, workplaces and across the broader community.
Globally, White Ribbon is the world's largest male-led movement to end men's violence against women. Originating in Canada in 1991, White Ribbon is now active in more than 60 countries.
White Ribbon began in Australia in 2003 as part of UNIFEM (now UN Women), formally becoming a Foundation in 2007.
White Ribbon Australia observes the International Day of the Elimination of Violence against Women, also known as White Ribbon Day, annually on November 25. White Ribbon Day signals the start of the 16 Days of Activism to Stop Violence against Women, which ends on Human Rights Day (December 10).
Book Now: Dubbo Chamber Events
---
Recent New Chamber Members 2015
Some more new members that have joined the Chamber recently.
Beautiful Image
Dubbo City Welding
Church St Cafe
Specialized Electrical
Welcome to them all - please support your fellow members and local Dubbo businesses.
---
Short Notes:
Yelp August Webinar for Australian Business Owners
Most businesses are talked about by their customers online, whether they realise it or not. Yelp is a website and mobile app that 142 million consumers visit each month to find information about local businesses like yours.
This webinar will help you get up to speed and answer a few questions:
What does Yelp do to protect business owners from questionable reviews?
How should you approach critical reviews?
How can you use the response tools available at biz.yelp.com.au?
Should you utilise private or public responses to customers who write you reviews?
Free webinar. Tuesday, August 18, 12–1pm. Register Here.
Dubbo Event Network Meeting
The next meeting of the Dubbo Event Network will be held 5:30pm, Wednesday 19th August, at Dubbo City Council conference rooms. Network meetings are held to facilitate the exchange of knowledge, information and ideas, and maximise opportunities for cross promotion across the City's visitor economy.
Meetings are open to anyone with a stake in the events industry or an interest in events held in Dubbo. Please send through agenda items by COB Monday 17 August to Lana Willets, 02 6801 4451.
Your Dubbo 2015 - Registrations Open
Registrations are now open for the Dubbo City Council Business Development program, Your Dubbo 2015. Your Dubbo has been very successful and the feedback from previous years very positive from participating businesses.
Register Now for Your Dubbo 2015 - Registrations close August 21.
---
Members Events & Promotions
---
CSU Dubbo Public Lecture Series - Do Talk To Strangers.
In our busy world of social media, three second grabs and speed networking, are we losing the ability to relate and connect to our fellow human beings?
With an Asian speaking tour under her belt, author and communicator, Kerrie Phipps is looking forward to further extolling her message of connecting with others as an essential ingredient for building businesses and communities.
Come along to hear:
How connecting with a stranger on a plane, train or automobile can change the course of your life - and business.
How to talk to strangers easily and naturally.
How to connect with anyone, anywhere.
Tuesday, 11th August, 6–7pm (followed by light refreshments). CSU Dubbo Campus, Lecture Room 422, Building 901.
---
NSW Business Chamber
All Dubbo Chamber of Commerce members get affiliate membership with NSW BC at no extra cost.
Upcoming NSW BC Webinars
| Date | Webinar |
| --- | --- |
| Aug.13 | Motivating and retaining a generationally diverse workforce. |
| Aug.18 | Country-of-origin branding: Get the Australian Advantage. |
| Aug.25 | Should Innovation be nurtured in SMEs? Should it be restricted to geographical boundaries? |
| Aug.27 | The purpose motive – engaging GenY through making a difference. |
| Sept.2 | The 7 key principles of effective business ownership transition. |
| Sept.9 | Why a brand is NOT a function of Marketing? |
| Sept.17 | How to make your website deliver profit. |
| Sept.23 | Benchmarked for success - what makes a successful tourism operator? |
| NSWBC | More info & registration |
---
Dubbo Chamber Business Event Calendar - Save The Dates
| Date | Dubbo Event |
| --- | --- |
| Aug.19 | Women In Business Lunch |
| Aug.30 | Rhino Judging Finishes |
| Sept.23 | Rhino Sponsors & Finalists Night |
| Oct.23 | Rhino Awards Gala Night |
| Oct.24 | DREAM Festival Oct 16–24 |
*More info on the Dubbo Chamber Business Events Calendar
Got something to promote to Dubbo Chamber Members?
All Dubbo Chamber members can have up to three free mentions in our Newsletter during the year.
The Dubbo Chamber Newsletter has a subscription base of 600+ and growing.
Please provide the written copy, 75–100 words max. Plus relevant details such as Date, Time, Pricing, URL etc. Please don't send in a graphic that we need to spend time typing out. We can link to your website, Facebook event page etc, so we don't need every single detail for the newsletter.
Please allow a minimum of 21 days for events, promotions etc.
---
Join the Dubbo Chamber of Commerce & Industry Inc.
Have you renewed your Dubbo Chamber Membership for 2015 - or still thinking about joining?
Contact our members services officer, Toni Beatty, to discuss joining the Dubbo Chamber.
---
#DubboChamber
The Dubbo Chamber of Commerce and Industry Newsletter is published twice a month, around the 2nd and 4th Wednesday.
Follow the Dubbo Chamber Facebook Page and Twitter Feed for the latest news about the Chamber and business in Dubbo.
Michael Quinn - DCoC Website & Newsletter Editor
2015/15 August 10. gone fishing
---
Copyright Dubbo Chamber of Commerce & Industry Inc.
Feel free to share this information, but please credit DCoC and link to our website.